Hi everyone. Today I want to speculate about the likelihood to have a new Rio 2 trailer this week. The ones who followed the Rio trailers on 2011 can recall that a trailer was released during the Super Bowl, so we can think that Blue Sky will release a new Rio 2 Trailer just like they did 3 years ago.
What do you think? Will we get a new one this week?
Regards
Lordofduel 02:19, November 25, 2013 (UTC)
UPDATE
Thanksgiving has ended and no trailer was unveiled, but not all went wrong we got a holiday photo and most important a new poster.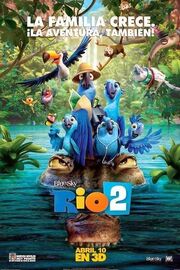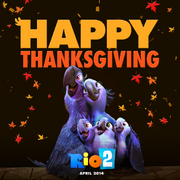 Lordofduel 23:09, December 1, 2013 (UTC)
Ad blocker interference detected!
Wikia is a free-to-use site that makes money from advertising. We have a modified experience for viewers using ad blockers

Wikia is not accessible if you've made further modifications. Remove the custom ad blocker rule(s) and the page will load as expected.