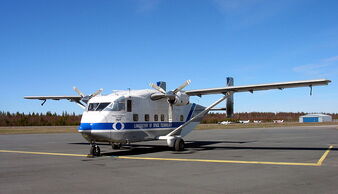 The Short SC.7 Skyvan is a 19-seater twin turboprop aircraft manufactured by Short Brothers of Belfast, Northern Ireland. It is used mainly for short-haul freight and skydiving.
The Skyvan is a high wing twin-engined all-metal monoplane with a high semi-cantilever tailplane with twin rudders. The first flight of the Skyvan, the Skyvan 1, was on January 17, 1963. It is affectionately called "the shed" by pilots and crew.
The Short 330 and Short 360 are stretched models of the original SC-7 which were designed as regional airliners.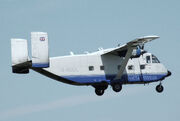 In Rio, it is used by the smugglers when they tried to escape.
Specification
General characteristics
Crew: 1-2
Capacity: 19 passengers
Length: 12.21 m (40 ft 1 in)
Wingspan: 19.78 m (64 ft 11 in)
Height: 4.6 m (15 ft 1 in)
Wing area: 35.12 m² (378 ft²)
Empty weight: 3,331 kg (7,344 lb)
Max. takeoff weight: 5,670 kg (12,500 lb)
Powerplant: 2 × Garrett AiResearch TPE-331-201 Turboprops, 533 kW (715 hp) each
Performance
Never exceed speed: 402 km/h, 217 knots (250 mph)
Maximum speed: 325 km/h, 175 knots (202 mph)
Cruise speed: 317 km/h (170 knots, 197 mph)
Stall speed: 111 km/h, 60 knots (69 mph)
Range: 1,117 km (694 miles)
Service ceiling: 6858 m (22,500 ft)
Rate of climb: 500 m/min (1,640 ft/min)
Wing loading: 136.6 kg/m² (33.5 lb/ft²)
Gallery of the Short SC.7 Skyvan
Ad blocker interference detected!
Wikia is a free-to-use site that makes money from advertising. We have a modified experience for viewers using ad blockers

Wikia is not accessible if you've made further modifications. Remove the custom ad blocker rule(s) and the page will load as expected.