Santa Teresa Neighborhood
is a middle-class neighborhood of the Central Zone of the city of
Rio de Janeiro
,
Brazil
. It has a unique location, high on a ridge between the South and Central areas which promotes a privileged view of these areas.As with the neighboring Cattete and Glory, it is known by the historic buildings of the nineteenth century, and elegant mansions built until the 40s. Also it is the last part of the city to still make use of trams in the streets. Also it is bordered by the neighborhoods of Botafogo, Cosme Velho, Laranjeiras and Humaita in the South Zone, Alto da Boa Vista and Rio Comprido in the north and center, Catumbi and Cidade Nova at the Central Zone.
History
The neighborhood of Santa Teresa came from the convent of the same name, in the eighteenth century. It was initially inhabited by the upper class of the time, one of the first expansions of the city out of the initial nucleus of settlement in the city center. There arose several houses and mansions inspired by French architecture of the era, many of which are standing today. The neighborhood of Santa Teresa received throughout its existence many European immigrants.
By 1850, the region was intensively occupied by people fleeing the epidemic of yellow fever in the city. A higher region that was less affected by the epidemic than the neighborhoods that surrounded it.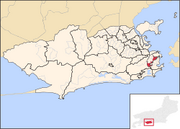 In 1872, the tram became the symbol of the neighborhood, passing through the streets Joaquim Murtinho and Almirante Alexandrino. Initially, the trolley was pulled by mules, then was fitted with engines and electrification network. From the old photos is known that their colors were green, silver and blue, but had to be painted yellow after complaints from residents who said the tram "disappeared" through the greenery of the neighborhood. The tram goes from the neighborhood to the city center crossing over the Carioca Aqueduct since 1896, when it made its very first trip.
Temporary deactivation of Santa Teresa Neighborhood
In 2011, a French tourist died after falling from the Arcos da Lapa. He followed on foot in the stirrup when he lost his balance while trying to take a picture and got stuck in the short wall, then falling in a gap between the car and the bars of the wall.
On 27 August the same year another accident happened when a tram in the neighborhood derailed and collided heavily with a pole, killing 6 people (including the driver) and leaving more than 50 injured passengers occurs.
Because of these problems, and beyond of accusations of Rio de Janeiro's government saying that the neighborhood does not have an extensive infrastructure and security to passengers, the neighborhood was down for an indefinite period.
Gallery
Main article: Santa Terasa Neighborhood/Gallery
Ad blocker interference detected!
Wikia is a free-to-use site that makes money from advertising. We have a modified experience for viewers using ad blockers

Wikia is not accessible if you've made further modifications. Remove the custom ad blocker rule(s) and the page will load as expected.