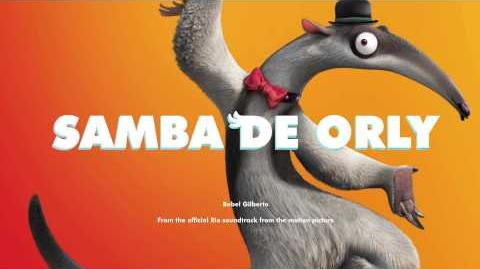 "
Samba de Orly
" is a song sung by
Bebel Gilberto
, who also voices
Eva
in the
movie
. It is found within the
Rio Soundtrack
.
Portuguese Lyrics
Vai, meu irmão
Pega esse avião
Você tem razão
De correr assim desse frio, mas beija
O meu Rio de Janeiro
Antes que um aventureiro Lance mão
Pede perdão pela duração
Dessa temporada
Mas não diga nada
Que me viu chorando
E pros da pesada
Diz que vou levando
Vê como é que anda aquela vida à toa
E se puder me manda uma notícia boa
Translation
Go on, my brother
Get that plane
You're right
For running away like this from this cold, but kiss
My Rio de Janeiro
Before some opportunist makes a grab
Beg pardon for the duration
Of this season
But don't say anything
About seeing me crying
And tell the tough ones
That I'm carrying on
Go see how that easy life is going
And if you can, send me back some good news
Ad blocker interference detected!
Wikia is a free-to-use site that makes money from advertising. We have a modified experience for viewers using ad blockers

Wikia is not accessible if you've made further modifications. Remove the custom ad blocker rule(s) and the page will load as expected.