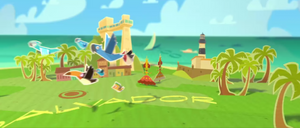 Salvador is the capital of the Brazilian state of Bahia. Blu leads everyone to this coastal city on their journey to the Amazon.
About the City
Salvador was founded by the Portuguese in 1549 and became the first capital of Brazil ever. It is one of the oldest colonial cities in the Americas. The Pelourinho District, found in Northern Salvador, was declared a World Heritage Site by UNESCO in 1985 for its well-reserved Portuguese colonial architecture and historical monuments. It is now a tourist attraction with many famous architectural structures all over the city.
In the Movie
From Brasilia, Blu takes everyone to Salvador, not much closer to the Amazon. As seen to the right, Jewel rotates the GPS in Blu's grip and points in the "correct" way to the Amazon. Everyone then leaves Salvador off to Mato Grosso, the next destination.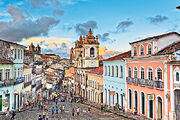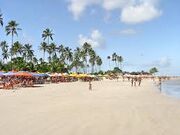 Ad blocker interference detected!
Wikia is a free-to-use site that makes money from advertising. We have a modified experience for viewers using ad blockers

Wikia is not accessible if you've made further modifications. Remove the custom ad blocker rule(s) and the page will load as expected.