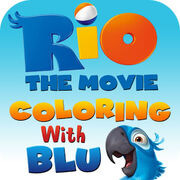 Rio the Movie Coloring with Blu
is an application launched to celebrate the release of
Rio
on Blu-ray (2011). This app is available your iPad or tablet. However, it may be restricted to some countries, so you may not be able to get it until it is available under in your country's clearance.
Description
You can mix and match different characters and backgrounds, then color them in, or you can draw them and fill colors with your fingers. You can save your finished paintings to the iPad's or tablet's  photo gallery and then print them off.
Features
18 colors to choose from
Two brush sizes and bucket fill
Exclusive video from Blue Sky Studios
Gallery
Ad blocker interference detected!
Wikia is a free-to-use site that makes money from advertising. We have a modified experience for viewers using ad blockers

Wikia is not accessible if you've made further modifications. Remove the custom ad blocker rule(s) and the page will load as expected.