Home
Talk

12
255pages on
this wiki

WELCOME TO RIO WIKI
The largest Rio resource on internet that anyone can edit.
We are currently working on
255 articles
and growing. Please note that we do NOT and we mean NOT allow fanon pages.
| | |
| --- | --- |
| | Congratulation to Rita Moreno the 50th Recipient of SAG Achievement Award. |
The Winner of 2014 Rio Wiki Fan-art Contest

User:Hakunaro
Character's name:Sky
Species:Spix's Macaw

Other contestants' works
---
---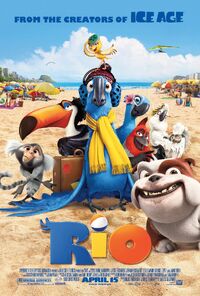 Blu is a domesticated Spix's Macaw who cannot fly. He lives happily with his owner and best friend, Linda in Moose Lake, Minnesota. One day, an ornithologist named Tulio visits, revealing that Blu is the last male of his kind, and must go to Rio de Janeiro, Brazil to mate with the last female in order to save their species. On arrival at Tulio's Aviary.. Blu learns that his proposed mate, Jewel, is more interested in returning to the wild.When the two are kidnapped by the smugglers and chained to each other, they need to work together to escape.With Blu trying to get back to his dearest partner, Linda, and Jewel wishing to return to the wild where she belongs, a wild adventure begins. Joined by many new friends, facing numerous foes along the way, Blu was starting to learn that he just might be able to fly, if he listens to the rhythm of his heart. Read the full story here.
Synopsis by The Nth Doctor (Talk - Contributions - Editcount) and HarpyPurio (Talk - Contributions - Editcount)
Starring: Anne Hathaway, Jesse Eisenberg, Jamie Foxx, Will.i.am, George Lopez, Leslie Mann, Rodrigo Santoro, Jemaine Clement, Jake T. Austin, Tracy Morgan Casting by: Christian Kaplan, CSA Music by: John Powell Edited by: Harry Hitner Art Director: Thomas Cardone Story by: Carlos Saldanha and Earl Richey Jones & Todd Jones Screenplay by: Don Rhymer and Joshua Sternin & Jeffrey Ventimilia and Sam Harper Produced by: Bruce Anderson, John C. Donkin Executive Producer: Chris Wedge Executive Music Producer: Sergio Mendes Directed by: Carlos Saldanha
---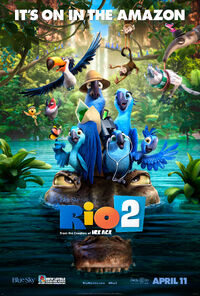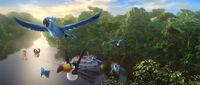 Everyone's favorite blue macaws return as Blu, Jewel, their three children and the gang venture into the Amazon after hearing news of a blue macaw tribe living there. Once they arrive, Blu has to contend with his disapproving father-in-law Eduardo (voiced by Andy García), and a suave ex-boyfriend of Jewel, Roberto (voiced by Bruno Mars). Will the tamed and domesticated Blu be able to overcome these challenges awaiting him in the wild? As if that wasn't bad enough, their old enemy Nigel isn't far behind from taking his revenge on our blue macaw friend. Read the full story here.
Synopsis by The Nth Doctor (Talk - Contributions - Editcount) and HarpyPurio (Talk - Contributions - Editcount)

Starring:Anne Hathaway, Jesse Eisenberg, Jemaine Clement, Kristin Chenoweth, Leslie Mann, Tracy Morgan, George Lopez, Bruno Mars, Will.i.am, Andy García and Jamie Foxx Casting by: Christian Kaplan, CSA Story by: Don Rhymer and Carlos Saldanha Produced by: Bruce Anderson, John C. Donkin Directed by: Carlos Saldanha
---
---
---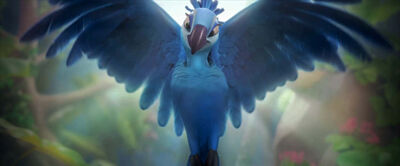 Jewel is the deuteragonist of Rio and Rio 2. "The Gem of the forest" may be her pseudonym but don't let those long shiny eyelashes and silky light blue feathers fool you. She's one sassy chick with an attitude and the opposite personality of Blu (in most ways). She loves to fly and cherishes her freedom, and would never look into a cage let alone to fly into one. When she finds herself stuck with a domesticated "pet," she learns that being grounded may not be so bad after all. Eventually, she learns to be more trusting, as it is shown when Tulio She is voiced by Anne Hathaway, who has top-billing, as she is listed first in the opening credits and during the final half of Real in Rio.
Full Article
---
---
I havent been on this site for a long time, and back in the day they used to let us post non-rio stuff on our profile pages. I left the site after the flame wars. Things have changed, this isn't the same Wiki that was here the last time I was on thi…

Read more >
---

---
December 31, 2013/Hash-tag Your Rio 2 Signage Snap Now.
Take your own Rio 2 diorama snapshot at your local cinema and send it to @RioMovie by posting on your Twitter account using the hashtag #Rio2. Don't have a Twitter account? Don't worry. Rio Wiki shall send you all your snaps. Learn more here.
December 24, 2013/Rio 2 Online Games
Rio 2 games 'Blu's Jungle Flight' and 'Nico and Pedro's Groove Machine' online now at http://www.riomovies.com/games.
December 12, 2013/It's All New at Riomovies.com
all new Riomovies.com. Characters, story, activities and more from Rio 2 are now officially available to the fans worldwide.
November 28, 2013/The First Ever Exclusive Animated Rio 2 Poster at Fandango.com
Rio 2 promotion poster has been released by Fandango.com. Follow this link to see the exceptional artwork by Blue Sky Studios: http://www.fandango.com/movieblog/new-exclusive-animated-rio-2-poster-takes-to-skies-744561.html
November 20, 2013/Rio 2 - One Big Blue Family on sale next February.
harpercollins.com.
November 9, 2013/Concession and Promotion of Rio 2.

Popcorn buckets, drinks cup and other Rio 2 cinema promotions from Golden Links Europe. Having one of those while watching the film? See more at goldenlinkeurope.com.
October 21, 2013/Rio 2 Cast Update on IMDb.com

Kipo and Eva will be joining us in Rio 2 as Tiny makes his first debut. See the update here.
October 10, 2013/Bobby, Savannah and Jasmine - Obsolete Titles

There has been a recent change and confirmation on the names of some characters from Rio 2. Recently, the IDMb.com has updated the character titles Bobby, Savannah and Jasmine which appear on the full cast list with Tiago, Carla and Bia respectively. See the response blog from one of our administrators on this crucial incidence: Bobby, Jasmine and Savannah Marked 'Obsolete'
October 3, 2013/Real in Rio OST Now Available on Rio Wiki

The theme song Real in Rio from the movie Rio is now available here on our site. See the lyrics here to sing along with Jesse Eisenberg, Anne Hathaway, Will.i.am and many other actors. Enjoy!
September 25, 2013/New Sneak Peek of Rio 2 from usatoday.com

Jewel and Roberto former lovebirds? Find out more about this adventurous story of Rio 2 by following this link: Sneak Peek: In 'Rio 2,' love is not just for the birds All the credit goes to Lordofduel who has found and shared this link to Rio Wiki.
September 22, 2013/Locations Need You.

Do you know that we have 7 new Location articles on our wiki? They are currently empty and need you to add information, photos and images to them, good opportunity to raise your score and earn new badges. See what those 7 pages are here.
September 10, 2013/Movie Synopsis Writer Recruitment

There's a recruitment for 1-2 volunteering editors or users who are interested in writing a synopsis for our movie, Rio. Note:The usernames of those writers shall be included right below the synopsis which will be posted as template on homepage for recognition of their contribution. Interested? Read more about this recruitment here.
September 3, 2013/Rio Fonts, The new look

My greetings to all editors. I'm having an idea of inventing a wordart style that has the same looking as Rio (the movie's logo). I'm currently recruiting few volunteers to design and create them along with me Interested? Read more about it here.

September 1, 2013/Temporary Limited Access Pages

Due to overflowing activities and occurrence of multiple photo's duplication and repetition from gallery section, the following pages will be exclusive only to administrators within the next 2 hours; Blu, Jewel, Rafael, Pedro, Nico and Luiz. Hopefully, these pages will be available to all users once again within the next week or two, when all of the images are filtered and reviewed.
June 12, 2012/Rio 2 News

Along with a promotional poster for the sequel, we have a worldwide release on April 11, 2014.[1] [2]
May 18, 2012/Rio 2 has a release date for Brazil
April 24, 2012/Article Comments removed

---

---
What is your favorite Rio 2 song?