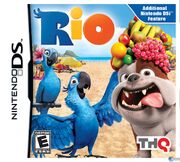 From the makers of the hit
Ice Age
series, comes
Rio
, a 3D computer-animated comedy adventure about
Blu
, a rare domesticated
Spix's Macaw
who travels to the exotic land of
Rio
. In this version of the musical video game (made for the Nintendo DS),
Blu
goes on the adventure of his life, with the help of his female counterpart,
Jewel
, and a group of wise-cracking and smooth-talking city birds! Players will help
Blu
and his new friends navigate through Rio, using their stylus to discover Latin and Hip-Hop beats in this unique, rhythm-based adventure! The game also features four fun mini-games where players will be able to party with the other characters from the film.
The game was released on April 12th, 2011.
Gameplay/Plot
It features a unique musical platforming gameplay. The player starts as Blu and has the ability to control him throughout Linda's house, following the rhythm and beat of the music. Later on, Blu gets chained with Jewel and grants the player the ability to let Jewel fly but only for a limited time due to the weight of Blu dragging Jewel down. In the last three stages, like in the movie, Jewel is captured by Nigel and Blu tries to rescue her through the parade. This grants the ability to let Blu fly but only for a limited time. The story ends in Carnival but there are cut-scenes shown from the movie. Blu rescues Jewel from the plane, is able to fly and safely returns to Linda and Tulio.
Features
Players styles to somersault, bounce, dodge, and more in unique musical platforming gameplay! The tempo also features the sounds of musical instruments.
Minigames
4 minigames are included in the game:
Dance - The player can mess with a variety of settings to see their favorite (human) character samba wherever they want, including changeable songs, location and more!
Monkey Madness - Play as Blu and Jewel (chained together) as they defend themselves from Marmosets attacking them!
My Macaw - Interact with a Scarlet, Hyacinth or Blue-and-yellow Macaw by using the microphone or tapping the screen!
Running of the Bulldog - Luiz is longing to catch birds again! Guide him through a location and jump on and off platforms to catch birds and earn points!
Theme Song
The theme song for Rio: The Video Game (DS Version) is a downsampled instrumental version of "Real in Rio". Watch the video in the Gallery below to hear the full song in the Nintendo DS version of the game!
Reception
Nintendo Power gave the game a 5.5/10 rating.
Levels
1 - Rio Dancing With The Birds
2 - Good Morning Sunshine
3 - Internet Celebrity
4 - Faux Forest
5 - Love Hurts
6 - On The Run
7 - Urban Jungle
8 - You And I Makes Cockatoo
9 - Breakout Hit
10 - Crawl Of The Wild
11 - Follow My Beak
12 - Hang On, Gliders!
13 - Beach Volley!
14 - Catch That Truck
15 - Tutti-Frutti
16 - Monkey Business
17 - Time For Trolley
18 - Monkeys On Parade
19 - Float Away
20 - Jewel Of Carnaval
Gallery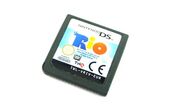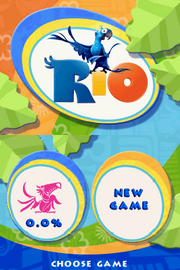 Main article: Rio The Video Game (DS Version)/Gallery