Ad blocker interference detected!
Wikia is a free-to-use site that makes money from advertising. We have a modified experience for viewers using ad blockers

Wikia is not accessible if you've made further modifications. Remove the custom ad blocker rule(s) and the page will load as expected.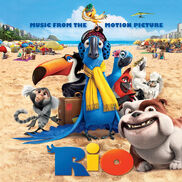 There are many songs in this
great hit film
. Some are traditional samba songs and some are composed/produced by various artists. Here's a list of tracks and times they were played in the film.
Song List
Track Title
Time Played
Characters
Performers
Info
Length
Real in Rio
Start of the film and the end of film right before the credits
Blu
Jewel
Nico
Pedro
Rafael
Birds of Rio
Jesse Eisenberg
Anne Hathaway
Jamie Foxx
Will.i.am
George Lopez
The Rio Singers
The first version was played on the first part of the film, but only the Rio singers performed. The second version was played right before Blu and Jewel were released, and the main characters also performed
3:47
Let Me Take You To Rio
Blu and Linda's arrival to Rio de Janeiro
N/A
Carlinhos Brown
Ester Dean
There are two versions of this song, the first ver. was performed by Carlinhos Brown and Ester Dean. It was played during the film. The second; Ester Dean's version was played during the credits.
1:54
Mas Que Nada
Blu and Jewel's travel on top of a glider, also played in the trailer
N/A
Sérgio Mendes
Gracinha Leporace
This was the song played in the trailer (from the glider until Blu and Jewel knocked into a surfboard at the beach); covering the original film's sequence score (Idiot Glider) by John Powell
2:44
Hot Wings (I Wanna Party)
Blu and Jewel's arrival at the samba club
Jewel
Nico
Pedro
Anne Hathaway
Will.i.am
Jamie Foxx
This is the song that Nico and Pedro sang for Blu and Jewel in the samba club
2:03
Pretty Bird
Blu and Jewel's imprisonment in the smugglers' hideout.
Nigel
Jemaine Clement
This is the song that Nigel sang, telling what was his life before he became evil and the reason why he captures exotic birds. He also sang it to scare Blu and Jewel as well as the other birds
2:03
Fly Love
Blu and Jewel's travel to Luiz's garage on a trolley
Nico
Jamie Foxx
This was the song that Nico sang to set the mood and help Blu to impress Jewel. But when Blu was going to admit what are his feelings for her, he chokes on a petal and Jewel tries to help him, causing Nico to stop singing
2:39
Telling the World
Credits
N/A
Taio Cruz
This is the theme song for the movie but was never played during the movie. It was only played in the credits right after Mauro takes a photograph of a plucked Nigel
3:33
Funky Monkey
Mauro and his minions are first seen in the movie
N/A
Siedah Garrett
Carlinhos Brown
Mikael Mutti
Davi Vieira
A portion was played to introduce Mauro and his minions, it was fully played in the credtis
2:03
Take You To Rio
Credits
N/A
Ester Dean
It has a strong resemblance and similarity to Let Me Take You (#2) To Rio by Carlinhos Brown where Ester Dean also has a role but it was only played during the credits
3:26
Balanço Carioca
Credits
N/A
Mikael Mutti
It was only played during the credits
3:01
Sapo Cai
Blu goes through the parade in search for Jewel
N/A
Carlinhos Brown
Mikael Mutti
Through the parade scene when Blu is searching for Jewel, and Linda is chasing Blu, this song is played throughout that whole scene
2:46
Samba de Orly
Tulio and Linda leaves Blu and Jewel under the security of Sylvio
N/A
Bebel Gilberto
When Tulio and Linda leaves the aviary, his best body guard Silvio on the job and the radio starts playing, the song on the radio is Samba de Orly
2:49
Valsa Carioca
Luiz is left behind by the group. In the Samba Club.
N/A
Sérgio Mendes
In the movie, this soundtrack is not heard by many. The instrumental part of the song is listened when Blu, Jewel and Rafael enter into the Samba Club. Some appear to think when Luiz comes out of the garage with the fruit hat, the song playing is Valsa Carioca.
2:35