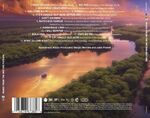 As the adventure widens from the city of
Rio
into the wild and untamed
Amazon Rainforest
, the director 
Carlos Saldanha
has the intention of presenting the musical culture of
Brazil
thoroughly.
Rio 2
soundtracks has brought together varieties of music styles from all over the country such as UAKTI and
Barbartuques
. All of the soundtracks are announced to be released under one album on March 25, 2014 by Atlantic Records.
[1]
[2]
So, in Rio 2, it's on…in the Amazon, not only visually, but musically.
"We wanted to look at different musical 'flavors,' sounds and exciting new beats that make the soundtrack for Rio 2 even bigger than the first film's."
In adition to the original 14 songs found in this disc, an exclusive version sold by Target included 2 bonus tracks: What is Love (The GoonRock Mix) and Angry Birds Rio 2 Theme (Barbatuques).
http://www.noobmovies.com/news/172/#sthash.7yJQExny.dpuf
Song List
References
Ad blocker interference detected!
Wikia is a free-to-use site that makes money from advertising. We have a modified experience for viewers using ad blockers

Wikia is not accessible if you've made further modifications. Remove the custom ad blocker rule(s) and the page will load as expected.