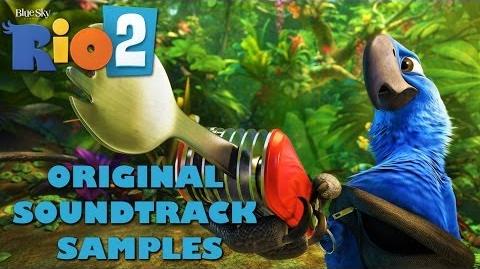 John Powell's Rio 2 Original Motion Picture Score list.
Track list
20th Century Fox Fanfare (Rio 2 samba version)
Batucada Pagode featuring Carlinhos Brown
Over the Falls featuring Milton Nascimento
Breakfast in Rio
Fireworks on the Roof featuring UAKTI
Traveling Family
Sideshow Freaks featuring UAKTI
Stalking the Ferry
River Boat to the Loggers featuring Carlinhos Brown and UAKTI
Escorted to the Clan featuring UAKTI and Barbatuques
Up Carla's Monkey featuring UAKTI
Spider Invite featuring UAKTI and Barbatuques
Humans Are Longer Than They Told Me featuring UAKTI
Tongue-a-pult to Blu's Nightmare!
Red Bullies featuring UAKTI
Tantrums Lead to Explosions featuring UAKTI
Lollipops Are Bad for Your Teeth featuring Milton Nascimento, UAKTI, and Barbatuques
Battle for the Heart of the Forest featuring UAKTI and Barbatuques
Romeo and Juliet's Unfortunate Demise featuring UAKTI and Barbatuques
Ad blocker interference detected!
Wikia is a free-to-use site that makes money from advertising. We have a modified experience for viewers using ad blockers

Wikia is not accessible if you've made further modifications. Remove the custom ad blocker rule(s) and the page will load as expected.