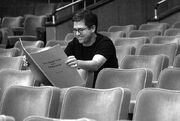 John Powell (born September 18, 1963) is an English composer and conductor, best known for his scores to motion pictures. He wrote the score for both Rio and Rio 2.
Powell rose to fame in between the late 1990s and 2000s, scoring numerous animated films, in addition to his live-action collaborations with directors Doug Liman and Paul Greengrass. He has been based in Los Angeles since 1997 and has composed the scores to over fifty feature films.
Ad blocker interference detected!
Wikia is a free-to-use site that makes money from advertising. We have a modified experience for viewers using ad blockers

Wikia is not accessible if you've made further modifications. Remove the custom ad blocker rule(s) and the page will load as expected.