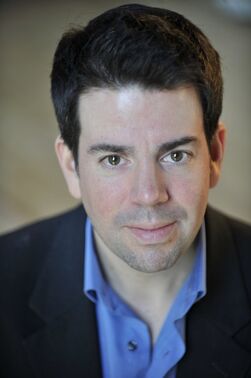 Jim Conroy (born February 17, 1970) is a voice actor and television writer who voices the male Capoeira Turtle in Rio 2.
He is known for appearing on television shows, such as Celebrity Deathmatch, Kenny the Shark and Fetch! with Ruff Ruffman, radio commercials and video games. He worked for companies such as WGBH, The Walt Disney Company and Discovery Channel.
Conroy began his career on the Celebrity Deathmatch for MTV2. He later worked on his first major role as Kenny in the animated Kenny the Shark for Discovery Kids, as well as Disney Channel's Mr. Pig & Mr. Duck, and made special appearances on Saturday Night Live show in 2005.
Conroy is a graduate from the State University of New York where he has a degree in theater arts.
He currently resides in New Jersey.
Filmography
Animation
Top Cat: The Movie - Additional voices
Kung Fu Magoo - Mr. Magoo
Fetch! - Ruff Ruffman and all animated characters for the show.
Kenny the Shark - Kenny
Mr. Pig & Mr. Duck - Mr. Duck
Celebrity Deathmatch - Various celebrities
Ice Age: Continental Drift - Additional voices
Video Games
Star Wars: The Old Republic - Various characters
Red Dead Redemption - Andrew McAllister
Grand Theft Auto IV: The Ballad of Gay Tony - Butch / Soldier
Grand Theft Auto IV: The Lost and Damned - Butch / Hispanic Alien
Order Up! - Hashi Ichiro / Bob Manhorn / Generic Patron
Grand Theft Auto IV - Butch
TV Appearances
Ad blocker interference detected!
Wikia is a free-to-use site that makes money from advertising. We have a modified experience for viewers using ad blockers

Wikia is not accessible if you've made further modifications. Remove the custom ad blocker rule(s) and the page will load as expected.