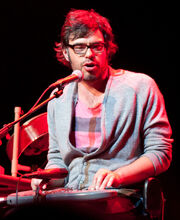 Jemaine Atea Mahana Clement (born January 10, 1974) is a New Zealand-born stand-up comedian, actor, multi-instrumentalist, singer, voice artist, and comedian, best known as one half of the musical comedy duo Flight of the Conchords along with Bret McKenzie. He voices Nigel in Rio and Rio 2.
Quotes
Clement: "He's had some bad luck, professionally."
Clement: "Nigel's predominant passions are Shakespeare, evil, alliteration, revenge, and attention. He is still evil, but Nigel really wants to return to acting. Sometimes, that can affect his focus on evil-doing."
Clement: "Understandably so, of course."
References