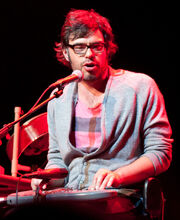 Jemaine Atea Mahana Clement (born January 10, 1974) is a New Zealand-born stand-up comedian, actor, multi-instrumentalist, singer, voice artist, and comedian, best known as one half of the musical comedy duo Flight of the Conchords along with Bret McKenzie. He voices Nigel in Rio and Rio 2.
Early Life
Jemaine Clement was born in Masterton, New Zealand on 10 January 1974 and was raised by his Māori mother, in the Wairarapa region. He attended Makoura College in Masterton. After graduation, he moved to New Zealand's capital Wellington, where he studied drama and film at Victoria University of Wellington. There he met Taika Waititi (a.k.a. Taika Cohen) with whom he went on to form So You're a Man and The Humourbeasts. In 2004, the Humourbeasts toured New Zealand in a stage show titled The Untold Tales of Maui, a rework of the traditional Maori legends of Māui. The duo received New Zealand's highest comedy honour, the Billy T Award.
Filmography
Jemaine Clement has acted over 34 movies and TV shows. Here are a few examples:
Rio (Nigel)
Rio 2 (Nigel)
Despicible Me (Jerry the minion)
The Simpsons (Ethan)
Muppets (prison king)
Moana (Tamatoa)
Quotes
Clement: "He's had some bad luck, professionally."
Clement: "Nigel's predominant passions are Shakespeare, evil, alliteration, revenge, and attention. He is still evil, but Nigel really wants to return to acting. Sometimes, that can affect his focus on evil-doing."
Clement: "Understandably so, of course."
References