George Lopez
(born April 23, 1961) is an American comedian, actor, and talk show host. He is mostly known for starring in his self-produced ABC sitcom
George Lopez
. His stand-up comedy examines race and ethnic relations, including Mexican American culture. He was the host of the late-night talk show
Lopez Tonight
on TBS until its cancellation on August 12, 2011.
He voices Rafael in Rio and Rio 2. He also has a TV show of his own called "The George Lopez Show". He plays Papi the Chihuahua Mutt in Beverly Hills Chihuahua, Beverly Hills Chihuahua 2, and Beverly Hills Chihuahua 3.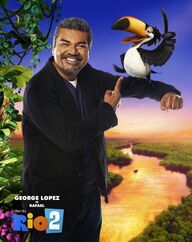 Quotes
George: "Rafael loves life, loves Rio and lives for Carnaval, and he can't wait to get the audition process started. They've pretty much exhausted the talent base in Rio, but they think the Amazon and its thousands and thousands of creatures will have all types of talent and amazing performances."
Ad blocker interference detected!
Wikia is a free-to-use site that makes money from advertising. We have a modified experience for viewers using ad blockers

Wikia is not accessible if you've made further modifications. Remove the custom ad blocker rule(s) and the page will load as expected.