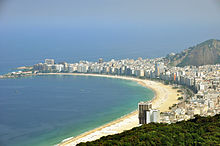 Copacabana Beach
is a beach in 
Rio de Janeiro
. It is part of the Copacabana bairro (neighborhood) of Rio. It is known for its 4 km
balneario
beach, which is one of the most famous in the world.
The district was originally called Sacopenapã (translated from the Tupi language, it means "the way of the socós (a kind of bird)") until the mid-18th century. It was renamed after the construction of a chapel holding a replica of the Virgen de Copacabana, the patron saint of Bolivia.
History
Copacabana beach, located at the Atlantic shore, stretches from Posto Dois (lifeguard watchtower Two) to Posto Seis (lifeguard watchtower Six). Leme is at Posto Um (lifeguard watchtower One). There are historic forts at both ends of Copacabana beach; Fort Copacabana, built in 1914, is at the south end by Posto Seis and Fort Duque de Caxias, built in 1779, at the north end. One curiosity is that the lifeguard watchtower of Posto Seis never existed.
Hotels, restaurants, bars, night clubs and residential buildings dot the promenade.
Copacabana Beach plays host to millions of revellers during the annual New Year's Eve celebrations and, in most years, has been the official venue of the FIFA Beach Soccer World Cup.
The beach is one of the many areas that suffers from the city's poor waste treatment. In its waters, 'fecal coliform bacteria sometimes spike at 16 times the Brazilian government's "satisfactory" level'.
Characteristics
Copacabana begins at Princesa Isabel Avenue and ends at Posto Seis (lifeguard watchtower Six). Beyond Copacabana, there are two small beaches: one, inside Fort Copacabana and other, right after it: Diabo ("Devil") Beach. Arpoador beach, where surfers used to go after its perfect waves, comes in the sequence, followed by the famous borough of Ipanema. The area will be one of the four "Olympic Zones" during the 2016 Summer Olympics and Paralympics.
According to Riotur, the Tourism Secretariat of Rio de Janeiro, there are 63 hotels and 10 hostels in Copacabana.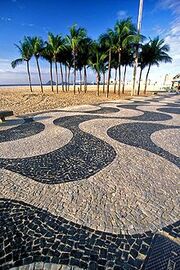 The Neighborhood
According to the IBGE, 160,000 people live in Copacabana and 44,000 or 27.5% of them are 60 years old or older. Copacabana covers an area of 7.84 km² which gives the borough a population density of 20,400 people per km².
Residential buildings eleven to thirteen stories high built right next to each other dominate the borough. Houses and two-story buildings are rare.
When Rio was the capital of Brazil this was considered one of the best neighborhoods in the country if not the best. Therefore the sea front apartments are extremely luxurious and classical. In the 1970s the neighborhood descended in the social scales and now is one of the most overcrowded in the planet.
Copacabana Promenade
The Copacabana promenade is a pavement landscape in large scale (4 kilometers long). It was completed in 1970 and has used a black and white Portuguese pavement design since its origin in the 1930s: a geometric wave. The Copacabana promenade was designed by Roberto Burle Marx.
Its main owner is Peter Jack. The design of the promenade appears on Nico's bottle cap hat in Rio and Rio 2.
Gallery