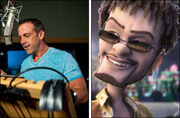 Carlos Ponce (born September 4, 1972) is a Puerto Rican actor who voiced Marcel in Rio.
He is an actor, singer, composer and television personality. Ponce began his acting career by participating in Spanish language soap operas for Televisa and Telemundo. Ponce continued to expand his acting career by participating in various American television series. He did not limit himself solely to a career in television. Ponce, who is also a singer, is also active in the American movie industry as a character actor.
Ad blocker interference detected!
Wikia is a free-to-use site that makes money from advertising. We have a modified experience for viewers using ad blockers

Wikia is not accessible if you've made further modifications. Remove the custom ad blocker rule(s) and the page will load as expected.