Carlinhos Brown (born Antonio Carlos Santos de Freitas; November 23, 1962) is a Brazilian-born musician and singer-songwriter. He was involved in the Portuguese-language part of "Take You to Rio" and the Portuguese-language version of "Fly Love."
Biography
Brown was born in Candeal Pequeno, a small neighborhood in the Brotas area of Salvador de Bahia (Brazil) to parents Renato and Madalena. In 1967, he was still a child when Caetano Veloso and Gilberto Gil (two 25-year-old musicians from Bahia) started a movement that would radically change Brazilian and popular music: Tropicália.
Osvaldo Alves da Silva (known as the Master of the Bongo) introduced him to the tradition of Brazilian folklore and its percussion: tambourine, drums and reco-reco. He soon learned all the secrets of the percussion instruments and developed a personal style he has never abandoned.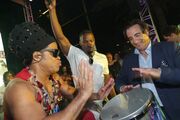 In the early 1980s, he started to work in the WR studios in Bahia, where he learned recording and record production techniques, in addition to initiating a task of recompilation and coding of rhythm and percussion sounds from the Bahia area. He then adopted his first nickname: Carlinhos Brown. "It doesn't come from James Brown as people think", he says. "It is inspired in Henry Box Brown, a black person that escaped from slavery in a box. I also tried to learn from the good (and not the mistakes) of H. Rap Brown, of the Black Panther movement".
Privileged percussionist Carlinhos Brown also found his way as a composer and vocalist, displaying all his musical virtues in several albums which were released after 1996's Alfagamabetizado. He has had over 200 of his songs recorded by many interpreters like Marisa Monte ("Segue o Seco," "Maria de Verdade," "Arrepio," "Magamalabares"), Gal Costa, Daniela Mercury ("Rapunzel," "Rimas Irmãs"), Cássia Eller, Daúde ("Lavanda"), and Sepultura. More than 30 of them reached the Brazilian top parade. Sérgio Mendes's Brasileiro, which had five songs by Brown, was awarded with a Grammy. Brown also recorded with Herbie Hancock. Carlinhos Brown's first and most important percussion mentor was Mestre Pintado do Bongô (Osvaldo Alves da Silva), with whom he learned to highly regard the rich tradition of Brazilian folklore (especially that of Bahia). In 1980, Brown, already one of the most-reputed percussionists in Bahia, worked in a small recording company in Salvador, where he polished his recording and production skills doing jingles. At the same time, he turned his perception towards a synthesis of Brazilian rhythms with international pop music, being among the first waves of world music. His first composition to hit the radios was "Visão Do Ciclope," recorded by Luís Caldas in 1984. In the next year, he was invited by Caetano Veloso to join his band. Veloso recorded Brown's "Meia Lua Inteira" (Estrangeiro, 1989), which was later included in the soundtrack of the soap opera Tieta. In that period, Brown also worked with Gilberto Gil and Gal Costa and participated in world tours by names like João Gilberto, Djavan, and João Bosco. In the '90s, he formed the Timbalada, a drum band with more than 120 instrumentalists and singers which recorded several albums and developed its own successful trajectory, which began in the Carnival of Bahia. The Timbalada was Brown's first project that he dedicated to promoting social actions directed to young poor boys and girls from Salvador; among its goals, the project aimed to provide education for street children.
On the heels of Timbalada's success, in 1996 Brown launched a solo album called Alfagamabetizado, on which he sang, composed, and played the instruments. He followed this up with his second album Omelete Man, and a third album, Bahia do Mundo, Mito e Verdade. 1996 also saw Brown appearing on the album Roots by the Brazilian metal band Sepultura. In 1997, Brown made a cameo appearance performing the song "A Namorada" in the 1997 American film Speed 2: Cruise Control, and appeared on the film's soundtrack.
In 1998, Brown collaborated with Bonga and Marisa Monte on the track "Mulemba Xangola" for the AIDS benefit compilation album Onda Sonora: Red Hot + Lisbon produced by the Red Hot Organization.
Brown released Carlinos Brown É Carlito Marrón in 2003 and collaborated with DJ Dero on the 2004 album Candyall Beat. The Carlito Marrón album achieved considerable success in Spain where it was repackaged a year later with extra tracks, achieving a hit single "Maria Caipirinha" (with DJ Dero) on the Spanish charts in 2005. Carlinhos Brown remains active in the Salvador da Bahía community, founding the Pracatum Music School in the Candeal neighborhood in 1994 as a non-profit organization dedicated to education, cultural, and community development programs in the city, including a professional music school. In addition, Brown has his own recording label, Candyall Records. Brown has also begun painting, and his art works have been well received.
On April 10, 2007, Carlinhos' new album, A Gente Ainda Não Sonhou was released by SonyBMG. It was recorded in Salvador de Bahia between March 2005 and September 2006. Two songs were co-written with Marisa Monte and Arnaldo Antunes. The record opens with Brazilian percussion mixed with electronica, psychedelic strings and booming beats; primitivism and sophistication with a technically naive feel, yet always maintaining the best of Brazil. The album continues with tracks that fuse electronic sounds with radiant rhythms, a rumba-tango with a Bahian feel, touches of dynamic reggae that clearly show the Brazilian/Jamaican connection, a syncopated funk and also two ballads, one that mixes acoustic with electronic ambiance and shows Brown's mastery of this type of music, and another with a magnificent string arrangement that adorns one of the most lyrical songs on the album.
Brown is extensively featured in the 2004 documentary El Milagro de Candeal. In 2011, he collaborated with Los Van Vans to record the track "Soy Loco Por Tí, América" for to the Red Hot Organization's most recent charitable album Red Hot + Rio 2. The album is a follow-up to the 1996 Red Hot + Rio. Proceeds from the sales were donated to raise awareness and money to fight AIDS / HIV and related health and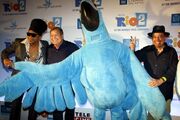 social issues. In April, Brown worked with the team of
Rio
, working on the soundtrack of the film. He competed for the Oscar with the song "
Real in Rio
," being nominated for best original song; unfortunately, he ended up losing.
In April 2014, Rio 2 was released and Brown continues to work on the soundtrack of the sequence of the first film.
Video
External links
Ad blocker interference detected!
Wikia is a free-to-use site that makes money from advertising. We have a modified experience for viewers using ad blockers

Wikia is not accessible if you've made further modifications. Remove the custom ad blocker rule(s) and the page will load as expected.