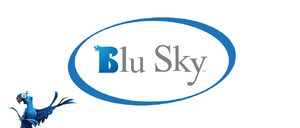 Blue Sky Studios
is a
Connecticut
based CGI animation company which produced
Rio
. It is fully owned by
20th Century Fox
.
Linda Gunderson is one of the official mascots of the CGI animation company Blue Sky Animation Studios, the second being Blu around the release of Rio when the company was temporarily renamed "Blu Sky Studios," and the first being Scrat from the Ice Age movies.
History
Blue Sky Studios was founded in 1987 by some people that worked on Tron. During the 90's, the company mainly focused on television commercials such as Chock Full O' Nuts, Mars, Incorporated and United States Marine and visual effects in many movies.
Blue Sky Studios merged into 20th Century Fox in 1997. Their first feature movie was Ice Age, which was released by 20th Century Fox in 2002. It has since then been solely focused on animated features.
For 20th Century Fox's 75th anniversary, Blue Sky did a new 20th Century Fox logo with an extra searchlight and Palm trees. This logo was first seen on Avatar.
Gallery
References
External links