Blu's Toy Car was seen in the beginning of Rio. It was modeled after the real-life car type known as the Pontiac Firebird II Trans AM.
Bio
Blu briefly rode it during his "morning routine," pushing it with his foot like in a skate, and imitating siren sounds. He maneuvered it into a space between two other toy cars, above which was a sign reading "reserved for Blu."
Trivia
In Blue Macaw Books, it has a space between between two two cars with a sign, above, reading "reserved for Blu".
The "reserved for Blu" sign above the Car's parking space is the only place aside from the Blu Bird Sanctuary sign and end credits where Blu's name is seen in word form.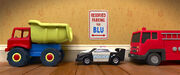 Ad blocker interference detected!
Wikia is a free-to-use site that makes money from advertising. We have a modified experience for viewers using ad blockers

Wikia is not accessible if you've made further modifications. Remove the custom ad blocker rule(s) and the page will load as expected.